Brady: More than a Name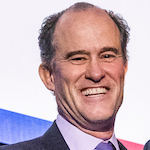 Dear Brady Supporter,
This year was a milestone year for Brady. We celebrated the 45th anniversary of the organization, the 30th anniversary of Brady Legal trying its first case, and 25 years since the signing of the Brady Bill. Together, that's 100 years of activism and leadership in the movement.
I was intrigued with this concept of concurrent Brady anniversaries and why we celebrate anniversaries in the first place. Someone referred to it as putting a pin in time, but it's more than that. It gives us a moment to reflect on where we started compared to where we are, and that's the story we'll reflect on in this Annual Report.
You'll learn what the Brady legacy is and about our place in the gun violence prevention movement. We'll share what we are doing today to ensure that 45, 30, and 25 years from now we'll be telling a different story. We'll also share our vision of how Brady solutions and the passion of our supporters can end the gun violence epidemic and deliver an America that allows everyone to live free from the fear of being shot.
We know that there is still considerable work to be done and Brady is leading the charge. Our bipartisanship is celebrated in the coming together of red and blue in our logo, just as we invite all people in America, coast to coast, red, blue, and every shade in between to come together and be a part of the movement to end gun violence.
At Brady, we unite, not divide. We find common ground in the common-sense. We reach across the aisle and shake hands not fists. All are welcome, because all voices are needed at the table and only then will lives be saved.
Brady welcomes and unites all who are against gun violence. Thank you for helping Brady ensure it delivers on the promise of a brighter, safer future for all Americans.
Kevin Quinn, Brady Chariman
Dear Brady Supporter,
At Brady, we are literally a name, built on the life-saving legacy of Jim and Sarah Brady. But like Jim and Sarah Brady themselves, we stand for so much more than that. That's why our annual report is titled Brady: More than a Name.
Brady is the only organization that works across Congress, courts, and communities, uniting gun owners and non-gun owners alike, to end the epidemic of gun violence that leaves 40,000 people dead every year and more than 80,000 more injured. How do we do that?
In Congress, after electing a gun violence prevention majority to the House, we played an integral role in passing multiple pieces of life-saving legislation we knew would make a difference.
We continued our work in the courts on behalf of victims and celebrated 30 years of holding the gun industry accountable. Yet again, Brady Legal established life-saving legal precedent that shaped practices that strengthen oversight of gun sales across the country. Our message? Reform your practices or we will!
Lastly, our work in communities truly sets us apart. Our End Family Fire campaign has been seen by millions and is changing not only how we store our weapons, but reaffirming that responsible gun ownership saves lives. Our efforts to curb the supply of guns to impacted communities is spreading through our work with law enforcement, corporations, government, and civic organizations to identify practices that ensure guns do not fall into dangerous hands.
Our new brand stands as a proud banner for all, uniting us to take action, not sides. Brady — we are indeed more than a name. We are the catalyst for the change that will create an America where we all feel safe again.
Thank you for being a part of the solution.
Kris Brown, Brady President
---
---
BRADY: UNITED AGAINST GUN VIOLENCE
"WE NEED A PLACE WHERE CONVERSATIONS CAN BE HELD."
"BRADY CAMPAIGN? IS SOMEONE RUNNING FOR OFFICE?"
"I'M TIRED OF ALL THE TALK. WHEN WILL SOMEONE DO SOMETHING ABOUT GUN VIOLENCE?"
People were looking for a place where they could go to learn more about the causes of America's gun violence epidemic, and more importantly, what could be done. They were tired of inaction, name-calling, finger pointing, and a lack of space where the voices of gun owners and non-gun owners could be heard. We knew that was Brady, and that we needed to look and sound like who we really were.
So, this February our storied organization took a bold step and rebranded. Instead of the Brady Campaign and Center to Prevent Gun Violence, we became Brady. Our tagline — United Against Gun Violence — was a clarion call to anyone in the country who was interested in ending this uniquely American epidemic, which is exactly the cause to which our namesakes dedicated their lives.
Jim and Sarah Brady looked past party politics as they marched through the halls of Congress, finding common ground in the common-sense. They knew all that mattered was passing legislation to prevent gun violence — taking action, not sides. Our new logo represents the bipartisan work that Jim and Sarah accomplished; the red and the blue uniting as purple. That was Jim and Sarah, uniting both parties for the common goal of saving lives. Political pragmatists that they were, they knew that solutions can only be achieved when we find middle ground.
Our rebrand invites everyone from coast to coast, young and old, red and blue, gun owners and non-gun owners alike, to unify as one and take action to end gun violence. Because the only way to end an epidemic that takes 100 lives a day is together, united as one.
Included in our brand are our goals as an organization and the mission statement that will get us there. By the year 2025, we are determined to reduce gun deaths by 25 percent. And just how will we achieve such an ambitious goal? We will work across Congress, courts, and communities, uniting gun owners and non-gun owners alike, to take action, not sides, and to put an end to the epidemic of gun violence in America.
Our work across Congress, courts, and communities builds upon Brady's legacy of enacting federal and state law, and is now furthered by the four programs announced alongside our rebrand — End Family Fire, Brady's Legal Alliance, Team ENOUGH, and our Combating Crime Guns Initiative. Each program is designed to tackle a specific cause of gun violence — and one year later, the results speak for themselves.
Our rebrand truly embodies the legacy and vision of our namesakes. Our new look exemplifies our history of bipartisanship and our future as the leading gun violence prevention organization. Its vibrant colors speak to life and the blending of ideas and visions for a common purpose. The red and the blue star captures unity. We are determined to continue the good fight started decades ago by Jim and Sarah Brady, and with them in mind, we will not stop until this epidemic ends.
We are Brady — and we are united against gun violence.
---
FINANCIALS
Total Revenue: $37,372,000; Total Expenses: $37,756,000; Net Assets $4,615,000